10 Movie World Attractions for DC Comics Fans
Posted in
Attractions
@
Dec 9th 2019 10:42am
- By Administrator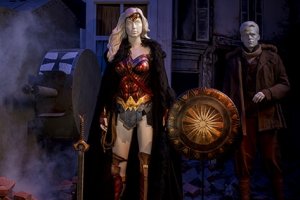 Whether you are a fan of the comic books or the DC Extended Universe, you will surely want to experience what Warner Bros. Movie World Gold Coast has in-store. Want to find out? Here are 10 attractions you don't want to miss.

1. WB Studio Showcase: This is the movie studio theme park's latest attraction. This exhibition showcases costumes and iconic props from various films under Warner Bros, so you want to see Wonder Woman's Lasso of Truth, the iconic red Shazam! suit, Harley Quinn's bat, The Joker's Cane and his crazy purple Vaydor make sure to drop by.

2. Green Lantern Coaster: Want to try the steepest and most incredible drop? This El Loco Coaster is 33-metres high with a top speed of 66 km per hour.

3. SUPERMAN Escape: Though this accelerator launch coaster is 760-metres long, it is very fast and can reach 100 km an hour in just 2 seconds.

4. BATWING Spaceshot: How about an adrenaline rush from a bungee-like ride? The BATWING Spaceshot will literally shoot the riders up to 60 metres and then down.

5. JL 52 Batmobile: Want to see the Batmobile up close? You are in luck because it was taken out of the Batcave and is currently housed in The Bat Alley which is located next to Village Bean inside Movie World.

6. Justice League 3D - The Ride: Want to be a part of Justice League and defend the world? This laser 3D ride is so interactive that it makes you feel like a real superhero. Each rider is equipped with a laser which is used to blast alien invaders and keeps a stun score. You can play with the other players and see which one got the highest score.

Besides DC superheroes, Warner Bros. Movie World Gold Coast also features super villain-inspired rides.

7. Arkham Asylum: This crazy ride is a suspended looping coaster. This means that the ride is fast and has inversions which you will fully experience as you are in a suspended seating. If you love this kind of thrill, then you have to experience this ride while wearing a VR goggle. You will definitely have an insanely fun ride.

8. Doomsday Destroyer: This monstrous ride is a suspended twin hammer which loops at 21 metres high with a speed of 36 km an hour. Can you handle it?

9. DC Rivals HyperCoaster: This hypercoaster has a long track, a high peak with an 89-degree drop and a fast speed. If you are prepared for that kind of thrill, make sure to sit at the end for the "ride it backwards" experience.

10. DC Rivals HyperCoaster Climb: And if you are not at all frightened by the DC Rivals HyperCoaster Ride, don't miss out and try the DC Rivals HyperCoaster Climb. YOu will forget the 282 steps you took once you reach the top and marvel at the 360 views in front of you.

Are you ready for all these attractions? Book your Broadbeach holiday accommodation at Santa Anne by the Sea. This Broadbeach holiday Apartments is near Warner Bros. Movie World and several other Gold Coast attractions.