5 Fun & Unique Attractions Near Our Broadbeach Holiday Apartments
Posted in
Attractions
@
Apr 10th 2019 2:29pm
- By Administrator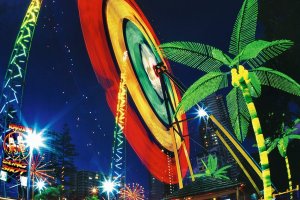 Taking a break with the whole family? Nothing beats a family vacation on Broadbeach. To ensure you fully enjoy your time off, arrange your Broadbeach holiday accommodation and plan your activities ahead of time.

At Santa Anne by the Sea Broadbeach Holiday Apartments, there is a selection of bright and modern Junior Suites and Superior Suites available. Both have air-conditioning as well as well-equipped designer kitchen, laundry facilities, WiFi Access, cable TV and a spacious balcony complete with table and chairs.

When it comes to activities, you will never run out of things to experience as Broadbeach offers several. In case your kids want to play and experience a theme park adventure, here are five family attractions near Santa Anne by the Sea.
1. Sling Shot Gold Coast Fun Park
This fun park not only features one attraction but four in one location. If you love adrenaline rush, then you will want to experience one or both of their thrill rides. The first is called Sling Shot which by its name already explains how the ride works. The second is called Vomatron. It is based on the machine astronauts use to prepare them for the riggers of outer space.

If you can't ride these, don't worry because there are two other fun attractions such as the Western-themed mini golf and the Bungy Trampoline.
2. King Tutt's Putt Putt
How about the ultimate mini golf experience? King Tutts Putt Putt features three cool adventures with 18 hole courses. First is the Ancient Egyptian course set in a glow in the dark cave complete with mummies. This leads you to the outdoor garden challenge called Jurassic Putt complete with moving dinosaurs and challenging obstacles. Last is the outdoor course Tutt's Challenge which is the most challenging King Tutt's Putt Putt adventure.
3. Ripley's Believe It or Not!
Ripley's Believe It or Not! has two attractions, one of which is the Odditorium. Here you will find 15 themed galleries which features incredible, mysterious and weird exhibits and interactive displays. The second is Ripley's Impossible Laserace where you make your way through a web of layers as fast as you can without breaking one.
4. Holoverse
Have you heard of the world's first hologram arcade? Then add this attraction on your list. Holoverse uses an advanced holographic technology to project objects around you. The arcade has over 40 hologram rooms plus some new additions such as hologram arcade tables and the hologram dinosaur experience.
5. Sea World
Do the kids love animals? The Gold Coast's premier marine animal park features several animal exhibits and encounters such as Penguin Feeding Presentation and Dolphin Family Adventure. Besides this Sea World also has themed precincts like Nickelodeon Land and Castaway Bay. Both areas offer different experiences and rides. There is also a new precinct opening soon called The New Atlantis as well as new thrill rides – Sea World Sky Flyer and Vortex.

Whichever adventure your family choose, you will surely find the perfect attraction. So what are you waiting for? Book your rooms and plan your activities today! You can check the rates and availability here.