Bring on Your 2020 Gold Coast Holiday!
Posted in
Accommodation
@
Jan 16th 2020 4:48pm
- By Administrator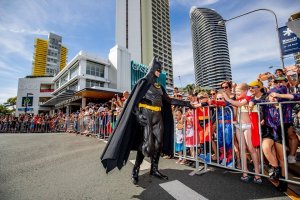 What is it about a stay on the Gold Coast that screams family fun? Is it the world class theme parks? The spectacular wildlife attractions? The breathtaking National Parks? How about discovering those secret local hotspots such as top class eateries, incredible beaches, hiking tracks, wineries, breweries, and boutique shops? There's always the incredible weather that makes travelling to the Gold Coast a delight year round.

The versatility and that the Gold Coast has to offer in terms of experiences, attractions, natural wonders, and local businesses means that there are just so many options for family fun that you can truly craft the holiday of your dreams to suit your own personal family style, and plan an incredible itinerary for all ages. Most attractions are within a half an hour drive of Broadbeach or less, and so choosing Santa Anne by the Sea as your holiday destination means you'll have the bets that the coast has to offer right at your fingertips.

Of course there's an exceptional lineup of local events on in 2020, and there's truly something to everyone looking to join in the excitement as well as make the most of their stay by exploring the Gold Coast to their heart's content. Check out just a few of the spectacular events coming up near our Broadbeach holiday apartments.
Gold Coast Superhero Weekend
From the 13th to the 15th of March Broadbeach is transformed into a superhero enthusiasts delight, with an incredible lineup of superhero themed events as part of the annual Gold Coast Superhero Weekend. Grab your cape and suit up, because you're likely to look out of place this weekend if you don't look the part!

Pop culture doesn't get much better than this, with the Gold Coast Supanova Comic Con & Gaming Expo at the Gold Coast Convention and Exhibition Centre just next to The Star Gold Coast. There's also a lego fan experience in Victoria Park, a life sized Star Wars X-Wing, themed movies as part of the Gold Coast Film Festival, and plenty of other fun activities over the three day weekend event, culminating in a spectacular superhero parade and after party!
Australian Street Entertainment Carnival
From the 10th to the 13th of April you can enjoy day after day of free entertainment as Cavill Mall and the beachfront streets of Surfers Paradise are transformed into a real life stage and street performers from all around Australia as well as international artists determined to impress will put their best foot forward and deliver breathtaking displays of daring, talent, and skill.

With a massive lineup of acrobatics, dance, music, theatre, comedy and so much more, you'll be spoiled for choice and entertained to the max with the Australian Street Entertainment Carnival in Surfers Paradise on the Gold Coast.
The 2020 Aussies
If a little friendly competition is right up your alley, you won't want to look past the 2020 Australian Surf Lifesaving Championships at the Broadbeach SLSC and North Burleigh SLSC. Athletes from 314 surf clubs will go head to head a battle it out in 480 events spanning from the 18th to the 26th of April.Whether you are looking to compete yourself, or just coming to cheer on the competitors, you'll love staying at Santa Anne and being so close to all the action for the 2020 Aussies.
Blues on Broadbeach 2020
An absolute favourite amongst visitors and locals alike, Blues on Broadbeach 2020 is looking to be bigger and better than ever with a stunning lineup or artists performing the best blues music for your enjoyment in the streets of Broadbeach as part of this free event. Book your Gold Coast stay from the 14th to the 17th of May and make the most of this popular music festival.

Artists include the Black Sorrows, G. Love, Tami Neilson, Don Bryant and the Bo Keys, Bootleg Rascal, Karen Lee Andrews and many many more. You can view more information about this event including the full program of artists here.
Seafire 2020
Every years thousands of people flock to the beach to join the other spectators in soaking up the excitement and visual sensation that is Seafire, and 2020 is no exception with an incredible offshore fireworks display lined up for your viewing pleasure. You can expect light, music, and choreographed pyrotechnics as international teams compete to take home the Seafire Championship title for 2020.

It's a jaw dropping evening that is guaranteed to impress, and you won't want to miss a second of it when you head to Surfers Paradise in the evenings of the 12th and 13th of June. Just minutes in the car or the G:link from our Broadbeach holiday apartments, you can enjoy Seafire and then make a night of it and head to the Star Gold Coast after enjoying the display.
Holiday accommodation
No matter which of these fantastic events draws you to the Gold Coast, you'll be so glad that you booked a stay at Santa Anne by the Sea in Broadbeach. Just a stone's throw from the iconic Gold Coast beach our modern self-contained apartments will be the ideal home base for your exciting Gold Coast getaway.