Broadbeach Jazz Festival, Anyone?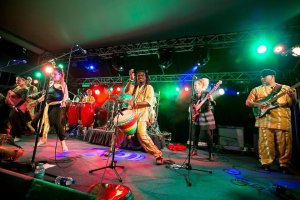 The festival that everyone's talking about is back for another exciting edition. Round up your music buddies and be at the Broadbeach Jazz Festival! Why be anywhere else when you can party on this side of the Gold Coast along with thousands of festival goers on Broadbeach from 20th to 21st of August 2016.

You can expect your usual mix of mainstream jazz music with a twist of fringe and family feel while exploring electic street markets and roving street entertainment.

Head to select premier performance spaces such as The Oasis, Kurrawa Park, Surf Parade stage, Lola's Restaurant, Niecon Plaza, Victoria Square Fountain, Broadbeach Mall, Oasis Shopping Centre, Surf Parade, and Sofitel. Some of the bands featured this year are: Queensland Youth Orchestra Big Band, The Living Room, Caxton St Jazz Band, Louie Shelton, Maggie Britton, Kerbside Collection, The Poodle Ladies, Nicole Parker Brown and Kevin Briggs, ABC 4 Kids Lah Lah's Big Live Band, Galapagos Duck, Wilbur Wilde's Blowout, George Washingmachine's Gypsy 5, Nicole Parker Brown, The Jason Machado Group, Heidi Hoops, and Gemma Giraffe and Ranger.

What a lineup, indeed. Don't you dare miss the Broadbeach Jazz Festival. Learn more about the full program by visiting http://www.broadbeachjazz.com.

Meanwhile, compliment your Gold Coast vacay by escaping to the beachfeont location at Santa Anne By the Sea. You can feel right at home within any of our sophisticated and affordable Broadbeach Holiday Apartments.

Take full advantage of our superb guest facilities, such as: our heated swimming pool and spa, wireless Internet access in each room and a free Internet kiosk at our reception, barbecue facilities, and a secure parking area. Outside, you can easily get lost in a long list of attractions and wonders nestled in Broadbeach. After quite a long day outdoors, you can finish your evenings on a high note with awesome Broadbeach hens night.
Create new memories with your loved ones as you sing and groove along with your favourite jazz acts. Make us your accommodation partner during the festival. Book your stay at Santa Anne By the Sea via http://santaanne.etourism.net.au today. It's fast and easy!
Image Source : Broadbeach Jazz Weekend