Engelbert Humperdinck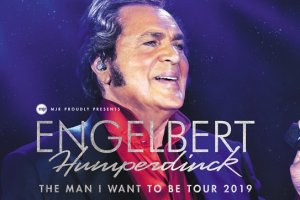 Engelbert Humperdinck – the larger than life live performer – has announced his eagerly awaited return to Australia, with 'The Man I Want To Be Tour,' to be performed at The Star Gold Coast in March this year.

Returning since his sold-out run previously, Engelbert will be singing music from his latest record "50". He'll also croon his essential hits like "The Last Waltz", "Am I That Easy To Forget", "Quando Quando Quando", "Release Me", and "A Man Without Love",

Growing up, Engelbert was surprisingly shy. The youngest of a brood of ten children, Engelbert Humperdinck, rose to fame in 1967, after his single 'Release Me' famously kept The Beatles from being number one in the charts with their new track 'Penny Lane'. After spending 50 weeks in the UK charts, the Leicester based singer and performer carried on with his undeniable rise to fame, winning the hearts of women across the globe, and becoming one of the most recognisable voices of his time.

With a career that has lasted almost 50 years, Engelbert has accumulated 64 Gold albums, 35 Platinum records, a star on the Hollywood Walk of Fame, four Grammy nominations, a Gold Globe. He has performed for the Queen and presidents. He is on the same level as music legends like Ray Charles, Tom Jones and Dean Martin. One of the few legendary musicians alive today, he is the voice of a generation. Don't miss this chance to enjoy an intimate night of concert with Engelbert.

Catch Engelbert Humperdinck at The Star Gold Coast on March 6.

Our Broadbeach Holiday Apartments are near The Star Gold Coast. We have a range of apartments for your needs. Our superior apartments provide air conditioning, laundry facilities, well-equipped designer kitchens, TV, WiFi access, and two large balconies. Stay up to date using our WiFi. Prepare healthy meals in the kitchen. Use our laundry facilities to clean your clothes. Take in the stunning views.

Our junior suite features a spacious design. It is fully furnished with air conditioning, WiFi access, well- equipped designer kitchens, laundry facilities, cable TV and balconies. Our comfortable apartments are entirely furnished.

For booking information, go to https://www.santaanne.com.au/apartments.