Food Guide: 5 Dining Destinations Near Santa Anne by the Sea
Posted in
Attractions
@
Jun 12th 2019 10:46pm
- By Administrator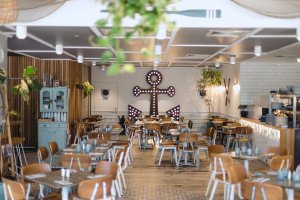 Are you the type of traveller who loves to explore the local food scene? Then make sure to book a stay at Santa Anne by the Sea as there are several dining options near our Broadbeach holiday accommodation. Here are a few of them.
Beachside Pavilion
Beachside Pavilion is located in Victoria Avenue Broadbeach. They offer a healthy breakfast menu which consists of classic breakfast meals like eggs benedict and breakfast bowls like acai bowl. Beachside Pavilion also serves fresh seafood such as oven-baked miso salmon fillet, whole baby yellow belly flounder and their signature chilli mud crab.
Cardamom Pod
Are you a vegetarian? You can find Cardamom Pod, a fully vegetarian eatery at 1/2685-2689 Gold Coast Highway. They offer a range of healthy but tasty options perfect for all diets. Cardamom Pod has a Hot Food Buffet with dishes like Vegan Moussaka and Polenta Bake. They also have a Salad Buffet which includes The Famous Tofu Salad, Rainbow Tempeh and more.

And if you are in the mood for some Super Smoothies, Cardamom Pod has some interesting choices like the Hulk, Gym Junkie and Acai Post Workout to name a few.
Easy Street Diner
Want to taste the best burger on the Gold Coast? This American restaurant called Easy Street Diner is located in 12/2563 Gold Coast Highway. They were voted the Best Gourmet Burger On the Gold Coast from 2016 to 2018. Easy Street Diner popular burgers include Cheezie Boi, Chicken Poboy, Double Royle with Cheese, and Southern Fried Chicken Deluxe. Make sure to try any of these as well as their other popular items such as Chicken & Waffles and Loaded Fries.
Hideaway Kitchen & Bar
Located at 2657 Gold Coast Highway, you will find a place with hanging umbrella installation. That place is called Hideaway Kitchen & Bar where there are bar swings instead of the typical stools plus colourful graffiti on the wall.

Diners who chose this place can escape reality and enjoy some lovely Asian street food like dumplings, noodles, and Thai style ceviche as well as drinks from beers to street style cocktails, sake, and wine.
On Fire Greek Taverna
Located in Albert Avenue in Broadbeach, On Fire Greek Taverna serves mouth-watering Greek and Mediterranean flavours such as their tender meats like Chargrilled Lamb Cutlets and Moussaka. They also have some seafood choices such as Village Fish Tagine and vegetarian dishes like Falafel & Halloumi Spanaki. When you dine here, make sure to try their house-made dips and their specialty pita bread.

Are you excited to travel and explore Gold Coast's local dining scene? Then start planning your break today for a smooth and hassle-free vacation. Santa Anne Broadbeach Holiday Apartments has a Junior Suite which is an open-plan apartment. It is bright and modern plus it has air-conditioning, a well-equipped kitchen, a laundry facility, cable TV and a spacious balcony with chairs and a table. There is also a Superior Suite available with air-conditioning, a well-equipped kitchen, a laundry facility, two cable TVs and two spacious balconies.

You can book your desired room here.