Get that Awesome Gold Coast Glow!
Posted in
Accommodation
@
Nov 26th 2017 8:28pm
- By Administrator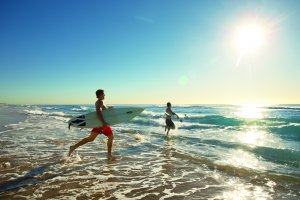 By Gold Coast glow, we mean perfectly tanned, golden, or sun-kissed skin! Leave your friends guessing where you've been. Before you get going for the Gold Coast glow, here are a few reminders to keep your skin healthy:

Wear sunscreen. A must-have for traveler out there, the benefits of sunscreen are obvious. Saving you from the possibility of acquiring skin cancer is one, which is why you need to take good care of your skin by applying a generous amount of sunscreen from your face, down to your toes. Reapply when necessary.

Stay hydrated. If you'll be out and about for the next few hours, then water is your friend. Water has saved people from suffering excessive dehydration and heat strokes. Unless you want to end up in the hospital, don't you ever scrimp on water.

Wear cover-ups. Wearing wide-brimmed hats, a pair of shades, shawls, and visors can act as second layer of protection against the sun's harmful rays. Pay extra attention to your scalp and eyes.

Whenever possible, avoid direct sunlight. Find a nearby shade when you can and let your skin take a break, too. Avoid going out between 10 AM and 3 PM because the sun's rays can prove more harmful during these times.

Meanwhile, choose an ideal Kurrawa Beach Accommodation at Santa Anne by the Sea to access our luxurious yet budget-friendly holiday residences. Santa Anne by the Sea boasts quite a convenient location, on top of its completely furnished residences and posh guest facilities, such as: our heated swimming pool and spa, barbecue facilities, free wireless Internet, and more.

As you step outside of the resort, you will find it so easy to fall in love with the beach's crystal clear waters and white sands. Our convenient location, at 15 Anne Avenue Broadbeach, is just a short drive away from the region's unique attractions. From the spectacular Warner Bros. Movie World, and Dreamworld, down to its marvelous nature-inspired attractions like Sea World and Currumbin Wildlife Sanctuary, nothing is impossible.

The next step is yours to make. Don't forget to make Santa Anne By the Sea your home for the weekend. Click on http://santaanne.etourism.net.au to be redirected to our secure and easy online booking service.