Indulge in All Things Sea, Sand, and Fun!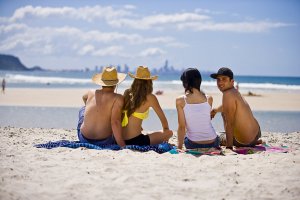 On your next visit to the beautiful part of the Gold Coast, why not indulge in all things sea, sand, and fun? After all, that is what this region is all about: sea, sand, and fun, fun, fun! Here are a few beach ideas to help you map out your weekend itinerary.

Go sunbathing for a few minutes. Go soak up the sun for a few minutes. Bring your beach mat. Sit back, relax, and enjoy the warm sunshine, perhaps with a book in your hand, if you are a bookworm.

Enjoy a game of beach volleyball with your friends. The fantastic foreshores of the Gold Coast are perfect for a game of volleyball. Take advantage of the beautiful weather to sweat some of your toxins out and at the same time perfect your volleyball skills.

Learn to surf or flyboard. Never mind if you weren't born with the natural ability to balance. Surfing and flyboarding are safe althleisure activities that only require one to know basic swimming. Perfect for those who want to conquer the beach waves or find other ways to have fun in the water, surfing and flyboarding are go-to activities for both locals and tourists alike.

Meanwhile, compliment your list of beach activities with a relaxing stay at an ideal holiday address such as Santa Anne by the Sea. Choosing a place that best reflects your persona and lifestyle may be a tricky thing to achieve, especially when there are so many Gold Coast holiday deals out there, but you can never go wrong when it comes to choosing Santa Anne By the Sea. From its elegantly designed open-plan type apartments down to its line of first-rate guest amenities, such as a heated swimming pool and spa, barbecue facilities, and free wireless Internet. Secure your home at Santa Anne By the Sea. Find us at 15 Anne Avenue Broadbeach, and be a short drive away from the region's most popular destinations.

Book online via http://santaanne.etourism.net.au for a secure and easy access to our list of available Broadbeach Mall Accommodation. It's fast and easy!