Santa Anne By the Sea is Your Ideal Holiday Address!
Posted in
Accommodation
@
May 24th 2017 5:10pm
- By Administrator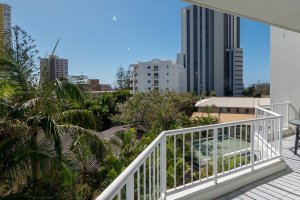 In today's blog entry, we count the ways Santa Anne By the Sea is your ideal holiday address. Besides the advantage of being so close to the beautiful sea, we are easily a go-to destination among locals and vacationers who seek great new adventures each day. Whether it's hanging out with friends at an artisan coffee shop overlooking the hinterland, flyboarding your afternoon away, or cycling amidst the beautiful Burleigh Heads with your family, the Gold Coast has brand new adventures waiting for you.

With Santa Anne By the Sea as your holiday address, you'll be able to make the most out of your best outdoor adventures with peaceful staycation times.

Our range of apartments gives you plentiful options. Relax in style with any of our elegantly designed Broadbeach Holiday Apartments. Our sprawling establishment houses suite-type apartments that give you that sophisticated vibe, for less!

Relax all you want with our swimming pool and spa. Relax however you want. With our heated swimming pool and spa, you can choose to start or conclude your day with a relaxing dip in our pool or treat your worn down muscles to an invigorating session at our spa.

Fast and reliable Internet access is available in your rooms. Who isn't online these days? Get free wireless Internet access from the comfort of your own room. Meanwhile, a free Internet kiosk is also available at our reception.

Barbecue parties are welcome. Enjoy an out-of-town trip in true Aussie fashion. Squeeze in a mini-barbecue party with your fambam or buddies by utilising our barbecue area.

Secure your car within our parking area. Bringing your car can be worrisome, too, but not at Santa Anne. We've dedicated parking spaces for guests who intend to bring their cars with them.

Booking online is so fast and easy. Santa Anne By the Sea has a very efficient online booking service that allows you to reserve and book your preferred holiday unit with so much ease! Simply visit http://santaanne.etourism.net.au to view our list of available units.

Visit us at 15 Anne Avenue Broadbeach, Gold Coast. Make Santa Anne By the Sea your ultimate holiday address! We look forward to having you over.