Time for Some Self-Tanning Sesh By the Beach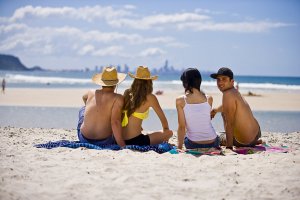 Beach buddies won't deny themselves the opportunity of unlimited lazing around time while basking under the glorious sun by the beach. But also keep in mind that too much exposure to the sun can be detrimental not only to your skin but to your overal health as well. If you're about to spend the rest of your weekend hanging by the beach, be sure to plan out your tanning sesh wisely. Read on for some tips:

1. Clear the surface of your skin. First things first: remove all those dead skin cells and unwanted hairs by scrubbing your skin with a sponge and waxing unneccessary hair. Make sure nothing hinders your achieving an even, and longer lasting tan.

2. Skip your usual makeup and perfumes. Some of these products found in your favourite cosmetics and perfumes contain chemicals that when exposed to the sun may have harsh effects onto your skin.

3. Your travel essentials should always include heaps of sunscreen. Today's lotions, creams, hair conditioners, and beauty products are packed with Sun protection formula (SPF) that help shield your skin and hair from the sun's harsh rays. Don't forget to massage your favourite products onto your skin and hair for 30 minutes before going out.

4. Wear coverups. Your stylish pair of sunglasses and wide-brimmed hats are not only trendsetters but can also provide you with ample protection from the sun. If you need to be outdoors for a long time, go ahead and wear them.

5. Don't wait for your skin to turn pink. Overdoing your self-tanning session can turn your skin pink, which can cause prickly sunburns that may take so much time to heal. Avoid exposing yourself to the harsh UV rays which peak at 10AM onwards. Soak up the sun for not more than20 minutes every morning.

6. Dont' scrimp on H2O. Do yourself a favour and drink eight to ten glasses of water every day. You may need to drink more if you're bound to have a long, eventful day ahead.

Meanwhile, have a memorable time staying at Santa Anne By the Sea, your perfect home away from home. A prime location by the beautiful sea, we are easily a go-to destination among Queenslanders and holiday goers who are hungry for everything Gold Coast. Our Kurrawa Beach Accommodation are complimented with superb guest facilities that are curated to match your fun-loving lifestyle.

Book your stay directly via http://santaanne.etourism.net.au.